If you've been driving your car around Hardeeville, Bluffton, or Hilton Head Island for some time now, it may be time to schedule your next oil change. For a quality oil change near you, look no further than Audi Hilton Head.
Our technicians perform oil services on a wide range of makes and models, and we're more than happy to help you out, too. Schedule your next oil change at our Audi service center for an excellent service experience!
Synthetic vs Regular Oil Change 
How Long Does an Oil Change Take?
How Often Should I Change Oil?
Oil change intervals will depend on the car you drive, so it's smart to check your vehicle owner's manual for the maintenance schedule you should follow. If you drive an Audi, you should change your oil every 12 months or 10,000 miles, but many non-luxury cars have more frequent intervals (six months or 6,000 miles, for example).
There are several other warning signs you can watch for when determining if you need an oil change, which include:
Black or gritty oil
Dark exhaust fumes
Loud engine knocking
Smell of oil in cabin
Also, don't overlook your dashboard warning lights! They'll alert you to issues with your oil pressure and oil level, as well as problems with the engine more generally.
Professional Oil Changes with Us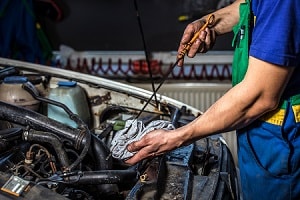 When you choose us for oil service, you'll get the expertise of a team of fully certified, trained technicians. They'll make sure your next oil change is done quickly and properly, no matter whether you use synthetic or conventional oil. You'll be able to drive with more confidence on the road.
Plus, we'll change your oil filter. This service should be completed every time you schedule an oil change, as the filter plays a key role in keeping your oil free from impurities. It's just one more way you can keep your oil performing at its best, wherever your next adventure takes you.
Get an Oil Change near Me
Keeping up with oil changes is the best way to boost your ride's safety, performance, and efficiency. When you need an oil change near you, turn to the professionals at Audi Hilton Head.
We'll have your ride ready for the roads of Hardeeville, Bluffton, and Hilton Head Island in short order, and we look forward to working with you!