Whether you use synthetic or conventional oil in your car, you'll need to change your oil on occasion. However, the interval you follow may be different depending on the type of oil you use. So, what is the difference between a synthetic vs. regular oil change?
At Audi Hilton Head, we want to give Hardeeville, Bluffton, and Hilton Head Island drivers a close look, so they can determine the proper interval for their car, truck, or SUV.
Synthetic vs Regular Oil Change: How Often?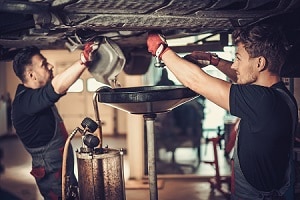 Typically, if you use conventional oil for your car, you'll need to change your oil more often. The general rule of thumb is every six months or 5,000 miles, although you might want to do it even more frequently if you spend a lot of time driving on dirt roads, in stop-and-go traffic, or in extreme temperatures.
Synthetic oil is engineered to resist the normal breakdown process, so it'll last longer in most car models. Some cars with synthetic oil will need oil changes once every 7,500 miles, while others can last as long as 15,000 miles between oil changes.
What interval should you use? We recommend checking the maintenance schedule in the owner's manual for the best results. 
Related post: Oil Changes: How Often?
Synthetic vs Conventional Oil: The Difference
So, how exactly do synthetic and regular oil differ aside from how often you need to change them? Most cars will reap a whirlwind of benefits from synthetic oil, including:
Better fuel and oil economy
Better, more uniform engine protection
Better protection at all temperatures/climates
Fewer emissions
Less sludge/fewer deposits
Quicker engine startup time
Plus, that's just the beginning. If you're considering switching over to synthetic oil, speak with a licensed technician or automotive expert to determine whether synthetic oil is a good choice for your car.
Why Do You Need Oil Changes?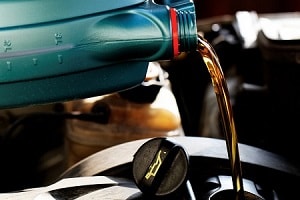 Whether you use synthetic or conventional oil, oil changes are essential for the health and functioning of your car. They're one of the most important services you can perform to keep your ride at its "A" game.
Engine oil acts as a lubricant, keeping the whirring metal parts inside your engine running smoothly, with no friction (and, thus, without overheating the engine). Over time, as oil breaks down, it gets less effective at doing its job.
Synthetic and regular oil break down at different rates, but both fall victim to the ravages of time at some point. By changing your oil on a routine basis, you can avoid a costly engine repair and replacement as well as enjoy a much safer, higher performing drive.
Schedule Your Oil Change with Us
Now that you know more about what goes into a synthetic vs. regular oil change, you'll be better prepared to change your car's oil at the proper interval.
At Audi Hilton Head, we've been helping local drivers of all vehicles with their oil changes for years. If you live near Hardeeville, Bluffton, or Hilton Head Island, we invite you to schedule your oil service with us.
Our certified technicians are experts when it comes to oil changes-synthetic or conventional. They'll have your car ready for the roads in no time!